For Immediate Release
October 21, 2021
Peace River Center Announces Domestic Violence Awareness Month Initiatives and New Victim Services Director

Lakeland, FL – Nearly 20 people per minute are physically abused by an intimate partner in the United States according to the National Coalition Against Domestic Violence (NCADV). During Domestic Violence Awareness Month (DVAM), Peace River Center (PRC) Victim Services is increasing awareness about this important topic and community resources through a series of webinars about domestic violence myths, and a donation campaign. The organization also partnered with the City of Lakeland for a proclamation and to turn city hall purple in support of survivors during the first week of the month. Those walking or driving by PRC's Victim Services Lakeland office will see purple statues representing the 1,383 individuals who received free and confidential domestic violence services from the organization last year. In honor of those individuals, the organization launched a campaign encouraging donors to give $13.83 and challenge two friends to donate the same amount.
"Oftentimes survivors are building their new violence-free lives from the ground-up. They arrive with a small bag of personal items and the clothes on their back," said Ileana Kniss, Director of Community Relations and Development. "Your donations help turn victims into survivors. Your support helps them achieve education or employment goals, and secure safe housing for their children."
Creating violence-free lives and breaking the cycle of abuse is something Kirsten Pindar, Peace River Center's new Director of Victim Services feels strongly about.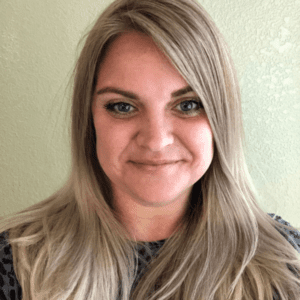 "I have a passion for working with survivors of domestic violence and rape recovery because there is a great need to raise awareness for the many men, women and children who are not only impacted but can make a difference and break the cycle of violence," said Pindar.
Pindar attended school in Albany, NY where she studied law and psychology with a concentration in counseling. During college, she became a certified rape crisis counselor; this created Pindar's passion for her future career. Following graduation, Pindar worked with individuals with HIV and AIDS, as well as those with disabilities, behavior challenges, mental health and substance use issues, as well as individuals who had experienced domestic violence and sexual assault.
In her new role, Pindar oversees program operations, outreach and awareness activities, and works alongside staff to help survivors of domestic violence and sexual assault. Peace River Center Victim Services is a dual center providing free and confidential services to hundreds of survivors of domestic violence (DV) and sexual assault (SV) annually. It is the only center in Polk, Highlands, and Hardee Counties certified by the Department of Children and Families (DCF) and Florida Council Against Sexual Violence (FCASV). The non-profit organization offers an array of services including 24-hour DV and SV crisis lines, shelter services, supportive programming, counseling, advocacy, education and outreach, and more.
Those interested in learning more about DVAM, DV myths or supporting survivors can visit www.PeaceRiverCenter.org/DVawareness.
About Peace River Center Victim Services
Established in 1978 Peace River Center Victim Services (PRCVS), Domestic Violence Center, and Rape Recovery Program is the only certified center in Polk, Hardee, and Highlands Counties. PRCVS is a dual center providing services to victims/survivors of Domestic Violence and Sexual Assault. The organization is certified by the Florida Council Against Sexual Violence. Its mission is to reduce the incidence of sexual violence and domestic/family violence, as well as promote safety and a higher quality of life through shelter services, supportive programming, counseling, advocacy, education and outreach Polk, Hardee and Highlands counties. The vision is to educate and promote safety within the community through creating a positive force for social change with a zero-tolerance towards domestic and sexual violence in Polk, Hardee and Highlands counties. Survivors can access free and confidential 24-hour services by calling 863.386.1167 in Hardee/Highlands or 863.413.2700 in Polk County.
About Peace River Center
Peace River Center is a licensed and accredited, non-profit provider of mental health, substance use, and integrated medical services serving Polk, Highlands, and Hardee counties. Peace River Center provides options for people struggling with mental health and addiction, for children and adults coping with the trauma of abuse and violence, crisis intervention for people in acute need, and housing and community support and integration for people affected by domestic violence or whose recovery requires more support and time. Peace River Center offers inpatient, outpatient, home-, school- and community-based services, telehealth, and mobile programs to individuals, groups, and families. Peace River Center's dedicated and compassionate staff of more than 400 operate 36 programs out of 27 locations and provide 24/7 emergency psychiatric response services to the community through our mobile psychiatric Crisis Response Team. In FY2020, Peace River Center had contact with and provided services to more than 21,500 children, adolescents, adults, and seniors. For more information visit www.PeaceRiverCenter.org.