Peace River Center Announces the Appointment of New Chief Executive Officer
BARTOW, Fla., April 1, 2022 – Peace River Center's Board of Directors appoints Larry G.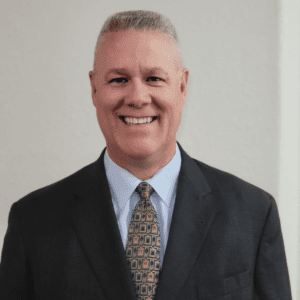 Williams, Jr. as the new Chief Executive Officer, which will be effective May 2.  Peace River Center's CEO, Bill Gardam is set to retire effective June 30. The appointment of Williams comes after an executive search that began in December 2021.
Williams, a Polk County native, has served with the Polk County Sheriff's Office since 1988.  His 34-year career includes a number of operational and administrative positions crossing many aspects of leadership. He has directly worked with individuals experiencing a mental health crisis, victims of sexual assault and domestic violence, and has seen first-hand the effects of how stigma plays a role in accessing care.
"PRC's mission resonates with me and I have a personal commitment to making a positive difference in the lives of individuals experiencing mental health and substance use challenges. Building on PRC's strong foundation and with the help of its driven staff members, I know we can increase awareness, further reduce the stigma and enable even more individuals and families to connect with much-needed resources," said Williams.
The PRC Board selected Williams as CEO based on his significant career history in the community as he represents an opportunity to bridge concerns in society surrounding mental illness and continue to grow PRC's partnerships with law enforcement. The Board noted PRC is a strong organization, now positioned with this exceptional and dynamic leader to look beyond the traditional approach to mental health in our society. The Board's goal is to advance in a big way the initiative to bridge the gap between mental health and law enforcement and remove the stigma.
###
About Peace River Center
Peace River Center is a licensed, independent and nationally accredited, non-profit provider of mental health, substance use, and integrated medical services serving Polk, Highlands, and Hardee counties. Peace River Center provides options for people struggling with mental health and substance use, for children and adults coping with the trauma of abuse and violence, crisis intervention for people in acute need, and housing and community support and integration for people affected by domestic violence or whose recovery requires more support and time. Peace River Center offers inpatient, outpatient, home-, school- and community-based services, telehealth, and mobile programs to individuals, groups, and families. Peace River Center's dedicated and compassionate staff of more than 400 operate 36 programs out of 27 locations and provide 24/7 emergency psychiatric response services to the community through our mobile psychiatric Crisis Response Team. In FY2021, Peace River Center had contact with and provided services to more than 20,000 children, adolescents, adults, and seniors. For more information visit www.PeaceRiverCenter.org.