Qasim "Q" Ward, the new Club SUCCESS Director brings history and ambition to one of Peace River Center's popular mental health recovery programs. The clubhouse model enables members—those persons living with a mental health diagnosis—to build self-confidence and reintegrate into their community. Qasim, who began his Peace River Center career as a Club SUCCESS Generalist then transitioned to the Resiliency Team, was eager to return. He said, "I felt compelled to apply in hopes of continuing to make strides in this field, but in a coaching position."
Coaching Clubhouse Members Back into the Workforce
As Director he coaches members on life and social skills. He works alongside clubhouse members and staff in a work-ordered day, which helps members return to the workforce if desired. "Our members defy the mental illness stigma daily. They operate our café, preparing and serving lunch to members and guests, and handle clerical duties for the 166-member clubhouse," he said. Through Transitional Employment Position (TEP), Supported Employment (SE), and Independent Employment (IE) some members work in the community as housekeeping staff or call center representatives. "It's such an extraordinary feeling when members finally gain the courage to step outside the clubhouse and back into society through a TEP, or SE, or IE position. Or when a member remains dedicated to his or her educational goal or finds and follows through on a housing opportunity," said Qasim.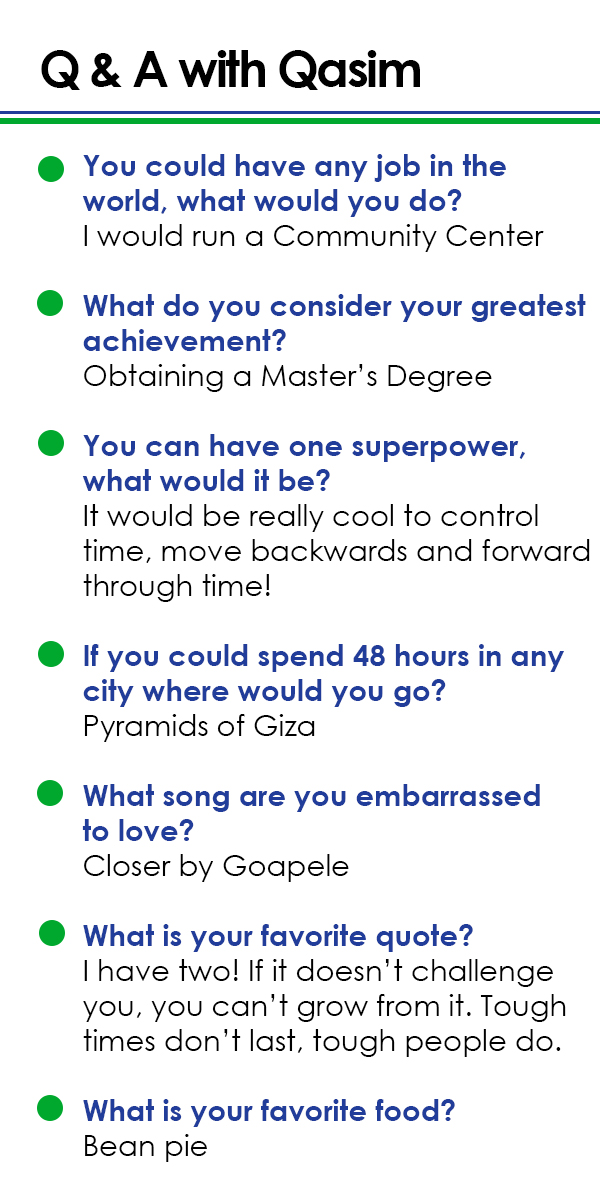 One of Qasim's goals is to increase the TEP and SE opportunities by working with local businesses to identify employment opportunities. "The advantage to the business is coverage is always guaranteed. Clubhouse staff learn the position and help train the member, then offer support during employment. If the member is unable to work, a Club SUCCESS staff member fills in," he explained.
Bonding Through Clubhouse Outings
It's not all work though! In addition to work-ordered day tasks, members select weekly activities such as basketball games, movie nights, trips to the Peace River Center Thrift Shoppe, bowling, etc. Qasim has quickly bonded with members through these adventures, daily conversations, and some of their mutual love of sports. "I enjoy accompanying them and enjoying the experiences with them," he said.
Showcasing Talent Through Technology
He also envisions streamlining technology for the betterment of each Clubhouse member. His goal is to obtain newer computer equipment and editing software. Qasim said despite the stigma and challenges surrounding members' mental health diagnoses, he wants them to use technology and showcase their abilities. "It would be awesome to see a member become a news reporter or shoot and edit footage to show the inner clubhouse workings or have a virtual clubhouse experience," he said. "Members and staff are always looking for opportunities to learn new skills. If you're an expert in video production please contact me, qward@peacerivercenter.org or (863) 519-0874.
Raising Awareness of Club SUCCESS
Qasim is also eager to make new community connections and raise awareness about the clubhouse and its members. He encourages everyone to take a tour, enjoy lunch or a snack in the café, or spend some time in the clubhouse butterfly garden. Drop by 600 El Paseo, Lakeland 33805 and experience Club SUCCESS. "The future has a lot to offer and I am excited about increasing opportunities for clubhouse members and staff!"